"You can discover more about a person in an hour of play than in a year of conversation." Plato

Very young children use their natural language—play—to communicate and to resolve troubling issues, just as adults use words.
For children, toys and other therapeutic activities become the words and the play becomes their language.
Even highly verbal children may struggle with resolving difficulties using only the tool of their words.
On the other hand, children may use no words at all and do volumes of work through play during a single session.
In a safe and playful environment, the therapeutic relationship becomes the space where new learning, healthy coping and problem solving develops.
Our therapists partner closely with parents/caregivers, who are the most important people in a child's life.
We work diligently to address troubling issues while also allowing the child to work at their own pace, so therapy can be as successful as possible.
One of the primary ways we work with children is through therapeutic play.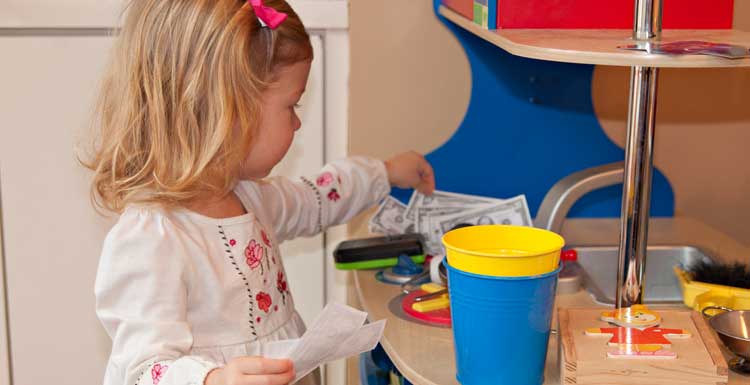 Play therapy helps children:
• To become more responsible for their behaviors and their choices
• To develop new and creative solutions to problems
• To develop respect and acceptance of themselves and others
• To grow in experiencing and expressing emotions in healthy ways
• To cultivate empathy for others
• To learn new social skills
• To learn to ask for, and receive help and feel more confident doing so
• To grow in a sense of inner security and confidence
The Association for Play Therapy defines play therapy as: "the systematic use of a theoretical model to establish an interpersonal process wherein trained play therapists use the therapeutic powers of play to help clients prevent or resolve psycho-social difficulties and achieve optimal growth and development."
For more information about Play Therapy watch this video.

Play therapy is utilized to help children cope with difficult emotions and find solutions to problem solving.
Play therapy treatment has been used to help with:
• Anger management
• Grief and loss
• Divorce and family dissolution
• Modification of behavioral disorders
• Anxiety
• Depression
• Attention deficit disorder and hyperactivity (ADD & ADHD)
• Autism or pervasive developmental disorders
• Academic and social development
• Physical and learning disabilities
• Conduct disorders (Bratton & Rhine, 2005).
Research supports the effectiveness of play therapy with children experiencing a wide variety of social, emotional, behavioral and learning problems.
"To play it out is the most natural self-healing process in childhood." – Erik Erickson
The Play Therapy room has toys that have been specifically selected for children to express themselves.
Theraplay is a type of therapy using play to build and enhance attachment, self-esteem, trust in others, and joyful engagement. It is based on the natural patterns of playful, healthy interactions between the parent and child which is personal, physical, and fun.
Theraplay interactions focus on four essential qualities found in parent-child relationships:
• Structure
• Engagement
• Nurture
• Challenge
Theraplay sessions create an active, emotional connection between the child and parent or caregiver, resulting in feeling worthy and lovable and relationships as positive and rewarding.
In treatment, the Theraplay therapist guides the parent and child through playful, fun games, developmentally challenging activities, and tender, nurturing activities.
The very act of engaging each other in this way helps the parent regulate the child's behavior and communicate love, joy, and safety to the child. It helps the child feel secure, cared for, connected and worthy.
Theraplay is beneficial to children struggling with:
• Shy, withdrawn, or clingy behavior
• Acting-out, angry, or disruptive behavior
• Defiant, oppositional or controlling behavior
• Behavioral problems at school or with peers
• Attention Deficit Disorder or Attention Deficit Hyperactivity Disorder
• Developmental disorders such as Asperger's Syndrome and Autism Spectrum Disorders
• A history of trauma, abuse, or neglect
• Attachment disorder due to adoption or multiple changes in living arrangements
• A history of social deprivation due to living in an institution
• Psychological trauma due to medical care or serious illness
To learn more about Theraplay watch this video: