May is Children's Mental Health Awareness Month!
For over a decade, we have celebrated this important day, May 9th,  and month to bring awareness to childhood mental health and its importance to overall healthy childhood development. This day was created by the Substance Abuse and Mental Health Services Administration (SAMHSA) to promote caretakers attending to children's mental health and to encourage fostering positive mental health throughout childhood. When we attend to mental health in childhood, it can help children foster resilience, learn important life skills, and contribute to ending the stigma around mental health and seeking mental health services.
This year, SAMHSA chose to focus on the topic "Suicide Prevention Strategies that Work". Here are warning signs that suggest that your child may be having suicidal ideation or depressive thoughts. Some of these signs include: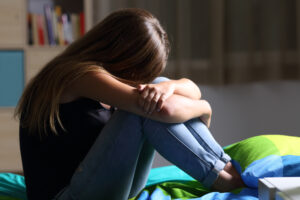 Withdrawing from peers and the family
Changes in sleeping habits (e.g. sleeping more often)
Changes in eating habits
Changes in hygiene
Increased irritability and angry outbursts
Increased crying or feelings of sadness
Decreased joy in activities that used to bring pleasure
Self-harm
Children oftentimes do not know how to manage these emotions on their own, so it is important for a parent, caregiver, or trusted adult to be on the lookout for these indicators. Parents can check in with their child periodically to see how they are doing by remaining open and understanding. Children often experience frequent changes in mood, and the child's resistance to talk about it at first is normal.
Here are  questions that parents or caregivers can use to assess for suicidal ideation in their child:
Do you have thoughts of hurting yourself? If so, how may you harm yourself?
Do you ever have thoughts of taking your own life? Or think that it may be easier if you were no longer here?
Do you have a plan of how you would carry out taking your own life?
Would you like me/us (parents) to take you to the hospital or call a professional to get additional help and to keep you safe?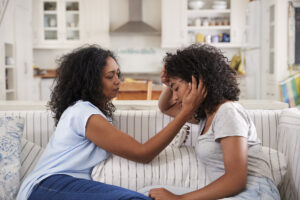 These questions should be asked in a serious but warm manner to encourage the child to open up. If your child seems at risk of harming themselves,  it is the responsibility of the parent or caregiver to do whatever it takes to keep the child safe. Parents should call their local emergency mental health services or 911  if their child is expressing that they plan to take their own life.
If the child is expressing thoughts, but does not plan on carrying out the plan for suicide, then parents can remove all items that the child has indicated they would use to harm themselves. Additionally, parents can also set up a "24-hour surveillance" and let the child know that they are going to be watching them closely, asking the child to sleep in the parent's bedroom, and/or keep their bedroom door open at all times. It is important for children to feel that their parents are taking this seriously, and that they are willing to do whatever is necessary to keep them safe.
Talking to the children around you about mental health is so important. Here are resources below that may help you open up a conversation about mental health with the children in your life.
If you have concerns about your child you can reach out for an assessment at 703-380-9045.
References and Resources:
https://www.samhsa.gov/childrens-awareness-day/about
https://sesamestreetincommunities.org/
https://www.cdc.gov/childrensmentalhealth/index.html
Written by: Emily Janes, Graduate Intern working towards completing her Masters of Science in Marriage and Family Therapy at Virginia Tech University. She graduated from Utah State University with a B.S. in psychology and a minor in human and family development. She is currently under the supervision of Sheri Mitschelen, LCSW, RPT-S.