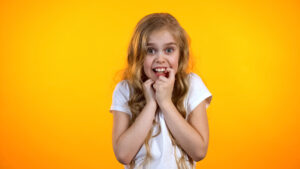 Most people can notice when they become triggered by something whether it be a deep sigh, fidgety feet or hands, or stomach butterflies. Noticing these small but significant changes can increase one's capacity for preventing a flood of feelings that feel uncontrollable and cause what gets labeled as tantrums. Spending time talking about how the body feels during various situations throughout the day can strengthen one's self-awareness and ability to ask for help before feeling out of control. Most children can identify having at least two feelings a day based on a typical school day- for example feeling frustrated during math class then happy at recess. This scenario helps create the building blocks needed for children to make the connection between their thoughts, feelings, and behaviors; how they are all connected and cannot exist without each other. When kids share about their day, help them reflect on how feeling upset or happy effected the outcome. It helps increase their ability to listen to their body which is needed in order to be self-aware. Below are things to consider for how to support them:
How does their body change when angry?
Notice change in posture
Notice hand motions
Notice facial expression
Reflect on their body positioning?
Your body is tense from how your hands are clenched
Your facial expression is showing an angry face
Your body has some tense energy to release from how your legs are shaking
What does the child gravitate towards when angry or anxious?
do you notice a pattern
do you notice that they seek sensory input such as hitting, biting, or squeezing an object
is the child able to label the feeling once calm enough to engage verbally
How long does it take to calm down?
Make note of how long it usually takes for the child to calm down to include how their body has gone from tense to relaxed
can the child identify techniques they use to calm the body when ready to verbally engage
Practice identifying cues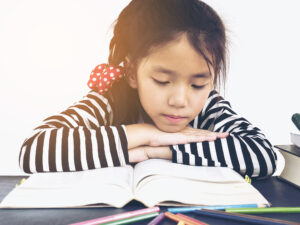 Your body is relaxed while reading this book
Your facial expression (face) tells me you are enjoying this game
Your breathing has gotten louder and quicker
Just as you would practice learning the alphabet or multiplication tables, it is as important to practice being aware of any changes in the body and how they impact behavior. This not only supports a child's capacity to prevent a negative outcome, but also to feel understood if the adults in their lives are in tune with the body language since children tend to rely on nonverbal communication when angry.
Written by: Jackie Fonseca, MSW, LCSW and RPT. Jackie, a bi-lingual therapist speaking English and  Spanish.  She specializes in working with school aged children and their families. Her treatment approaches include child centered play therapy, sandplay therapy, theraplay, trauma focused cognitive behavioral therapy, sensory integration and somatic regulation and it getting training in Animal Assisted Therapy with her dog Graham.