Every child and adolescent will experience emotional ups-and-downs in their lives; however, some children and adolescents may experience more intense and overwhelming emotions in the form of depression. The American Academy of Child and Adolescent Psychiatry (AACAP), estimates that 1 in 7 adolescents experience symptoms of depression and that rates of child and adolescent depression are increasing. While an individual can experience depression at any time in their life, it is not uncommon for the onset of depression to be in adolescence or early adulthood. Childhood and adolescence is a stressful time, so it makes sense for children and adolescents to feel sad, angry, or irritable sometimes, but if your child has been experiencing these emotions for weeks or months at a time, you may want to talk to your doctor or a therapist about depression.
Like most mental health challenges, depression looks a little different in children than it does in adults. Below are some common symptoms of depression in children and adolescents that AACAP encourages caregivers to look out for: 
Not enjoying activities as much as they used to

Changes in appetite and sleep habits

Spending less time with friends or in activities they tend to enjoy 

Having difficulty concentrating

Appearing to be or feeling irritable, depressed, sad, or tearful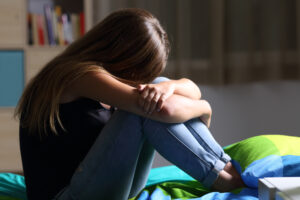 In some children and teens, depression may lead to thoughts of suicide or self-harm. If your child is experiencing these thoughts, it is important to seek immediate help. Caregivers should take every comment about suicide or self-harm seriously and reach out for additional support. Call centers can be an especially helpful resource. The Suicide Prevention Hotline (1-800-273-TALK) is a confidential hotline that is open 24/7. Some teens may feel more comfortable texting for help. In this case, The Crisis Text Line may be helpful. You can text HOME to 741741 at any time for assistance and support.
If you think that your child may be experiencing symptoms of depression, it is important to consult with a doctor or therapist. Thursday, October 10 is National Depression Screening Day. Check online for resources in your area that you can utilize to help you or your child. In addition to reaching out to professionals, there are things you can do at home to help your child or teen manage symptoms of depression. According to Kids Health, parents can support their children by:
Help your child manage their physical health by eating healthy food, exercising, and getting enough sleep

Spend time together doing activities that promote enjoyment, relaxation, and pleasure

Be patient and kind with your children, even if they're irritable or rude
If you think that your child may be struggling with depression, the therapists at Crossroads Family Counseling Center can help! Please contact us and set up an appointment today! 
Written by: Emily Janes, Therapist Intern.  Emily is working towards completing her Masters of Science in Marriage and Family Therapy at Virginia Tech University. She graduated from Utah State University with a B.S. in psychology and a minor in human and family development. She is currently under the supervision of Sheri Mitschelen, LCSW, RPT-S.