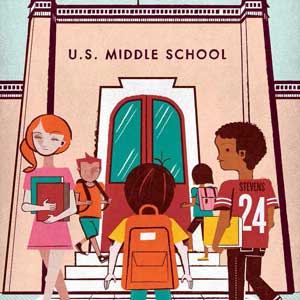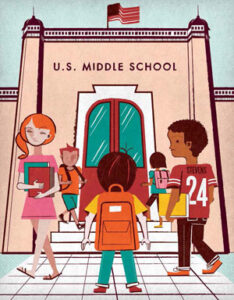 Supporting a child through a transition to middle school can be a daunting task. Your child is suddenly faced with a brand new environment, a new sleep schedule, a flood of new peers, and academic expectations that can send a child's worries into a tailspin.
It is important that you stay tuned in with your child throughout this transition and beyond. Be mindful of any changes in behavior such as social withdrawal, changes in sleeping patterns, poor grades, increased conflict at home or at school, sudden meltdowns, school refusal, or increased complaints of headaches, stomach aches, etc. These symptoms are often an external distress signal for children with an internal emotional struggle. 1 in 5 children show symptoms of a mental health disorder, yet nearly 80% of children go without the support they need.
Ensure that you are regularly asking your child about how they are doing, how they are feeling, what a typical day looks like for them. Ask about their peer relationships, their struggles, their "highs" and "lows" with a calm, curious, and compassionate tone. Communicate to your kiddo that you want to know how to best support them, and ask them what they need from you in order to do so. If you sense that something may be awry, emotionally or psychologically, or if they communicate feelings of worry, sadness, or trouble focusing, it is important that you take your child's concerns seriously, educate yourself about mental health, and seek professional help. Utilize the resources available to you and your child by talking with the school's mental health professionals or local mental health professionals.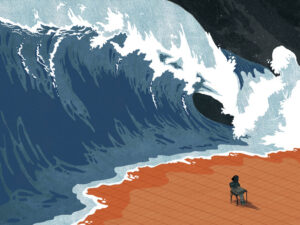 Not only is it overwhelming for tweens as they transition into this new phase, it places a strain on parents too.  Parents may see their child struggling and feel suddenly disconnected or clueless about how to effectively communicate with their tween. They may experience strong feelings of shame or anxiety about not knowing how to support their children. They may feel like they have less insight into their child's day-to-day routine now that their child has a jam-packed schedule, multiple teachers, and an increasingly complex social world. Middle schoolers are likely to become more engaged with technology and social media. This may lead to increased conflict in the home and intense fear about how to prevent negative online experiences. If you find yourself struggling to cope with these stressors, seek mental health support for yourself. 1 in 5 adults struggle with mental illness, yet 60% of adults go without the support they need. Be sure to intentionally make time for self-care. You will be able to best support your child if you are taking good care of your own mental health.
Crossroads has a Middle School Girls' Group beginning January 31st. Group will be led by Grae Worthington, M.A., and meets Wednesday evenings at 6pm. Topics will include self-esteem, building healthy peer relationships, anxiety and depression, bullying, and coping skills, among others. Members will be encouraged to connect with one another and engage in activities and discussions that promote self-esteem, positive relationships, and mental health. Call today to set up a free intake.
Written by Grae Worthington,M.A., Resident in Counseling.  Grae specializes in working with Middle school and High School students on  issues of grief and loss, emotional regulation, social skills, depression and anxiety.  She uses mindfulness/meditation, building coping skills, and expressive art techniques in her work with teens. . She takes a person-centered and integrative approach, building on each client's unique strengths, abilities, and communication style. By working in concert with these skills, she seeks to help clients and their families navigate their way through life's challenges and cultivate meaning from difficult experiences.