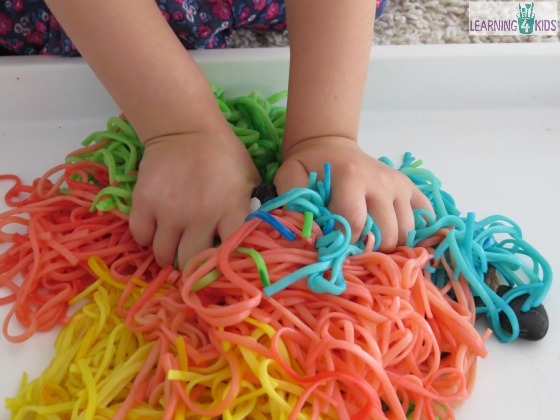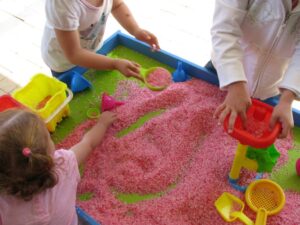 Summer is a great time for kids to relax, play with friends, and enjoy the outdoors! However, many parents wonder how they can keep their kids learning and building on skills in the summertime. Sensory play can be really advantageous for kids to learn new skills, practice old skills, and have fun. Many kids who struggle with sensory processing, whether it be with tactile functions, motor functions, spatial awareness, or social skills, really benefit from sensory play. This type of play allows for kids touch, smell, taste, sight, and hearing to be engaged while playing and moving. Therapists have found it helpful to encourage sensory play for kids in order to engage their left and right brain simultaneously. Sensory play often times also includes some sort of science that allows for children to learn while having fun. This makes it easier for parents to know that their kids are learning, while being playful!
Occupational therapists have found that children who struggle with touch often benefit from sensory play. Textured objects and materials can be a good for allowing the child to move the objects in between their hands and practice putting the materials on different parts of their body and skin. These objects and materials also incite the child's imagination to expand on the ways in which they can play and move them. Some sensory play activities not only help with sensory desensitization, but also engage the brain and their creativity. Making and playing with slime encourages kids to practice their science skills by creating hypotheses, measuring and mixing liquids, and experimenting. Children also learn the sensory attributes such as: sticky, hot, cold, dry, wet, etc.
One of the more profound benefits of sensory play for all kids, is the ability to build nerve connections in the brain. It is often difficult to find games and play that incite the brain in a way that builds its firing connections, but sensory play has been found to encourage kids to think in more complex and dynamic ways. Children's motor and speech development skills are also encouraged through sensory play by providing them with an opportunity to use their motor functions and speech in a more problem-solving manner. This type of play can be extremely calming for some kids as well. Children who have difficulties with self control and anxiety have the opportunity to play with soothing objects and manipulate materials with their hands.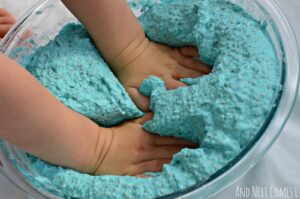 Sensory play is also an activity that parents can do at home with their children, and it can be relatively cheap! Parents can use this opportunity to engage with their child and show their playful side. These activities can also be done outside to take advantage of the summer weather! Some fun and cheap ways for parents to practice sensory play with their child include making:
slime/goop

colorful squishy bags

colored rice bags

sand activities

digging for spaghetti worms

and many more!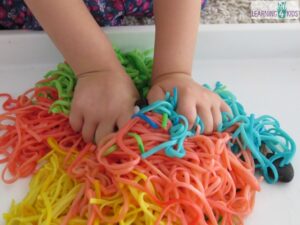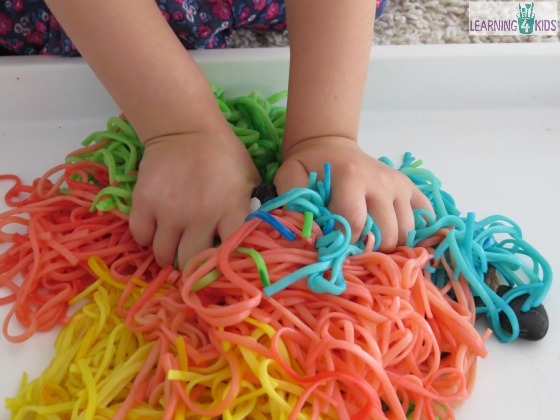 Head to the following link for a list of fun DIY sensory play activities! You can browse activities by age and category.
https://www.learning4kids.net/category/sensory/
Resources:
https://www.goodstart.org.au/news-and-advice/october-2016/exploring-the-benefits-of-sensory-play
https://littlebinsforlittlehands.com/basic-slime-science-homemade-slime-for-kids/
https://www.understood.org/en/learning-attention-issues/child-learning-disabilities/sensory-processing-issues/sensory-processing-issues-fact-sheet?cm_ven=ExactTarget&cm_cat=061918_EnglishNewsletter&cm_pla=All+Subscribers&cm_ite=https%3a%2f%2fwww.understood.org%2fen%2flearning-attention-issues%2fchild-learning-disabilities%2fsensory-processing-issues%2fsensory-processing-issues-fact-sheet&cm_lm=shmitsch@gmail.com&cm_ainfo=&utm_campaign=newsletter&utm_source=generalnews&utm_medium=email&utm_content=061918_EnglishNewsletter&&&&
Written by: Kasey Reichard, Therapist Intern.  She specializes in working with children, adolescents, parents, adults and families.
Kasey is working towards completing her Masters of Science in Marriage and Family Therapy at Virginia Tech University.  She is also a graduate from Florida Atlantic University with a B.A. in Psychology and a minor in Sociology. She is currently under the Supervision of Sheri Mitschelen, LCSW, RPT-S