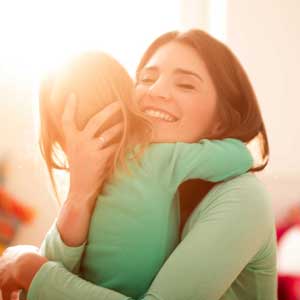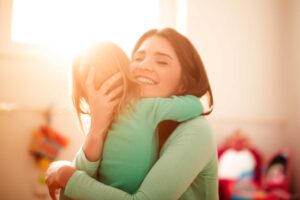 As we enter this month of roses and heart shaped chocolates, consider what you do to show your children affection?
Researchers at Duke Medical School found that the release of oxytocin was most likely the reason for increased childhood happiness and reduced anxiety/stress. The study followed 500 people from birth to their 30s and found that the people that received the most affection and attention throughout their childhood reported as less anxious and stressed than others. In addition, these same people were found less likely to have psychosomatic symptoms, distressing social interactions, and were less hostile. The theory behind oxytocin is based on its other known nick names such as the "cuddle hormone' or "bonding hormone." It is released during pregnancy, breastfeeding, and other moments of closeness when a child feels loved and a sense of connection. It adds to the perception of trust and support. This bond is what causes the chemical to be released in the brain, therefore increasing a child's capacity to have more positive emotions.
So how can you foster your child's happiness?
Make hugging a part of your daily routine

As seen in the Trolls movie, the trolls wore watches with alarm clocks set for every hour to remind them it was hug time. Choose a time of day that you can remember to do this, like before school, at dinner, or at bedtime. If it takes having an alarm like the trolls did so be it!

Be playful
Let your inner child come out to play at least once a day. Even its only for 10 minutes or one round of a game. Let your child lead and choose the toy/game. The type of games will change with age. They say actions speak louder than words so what a better way to compliment your words of affection and touch than by engaging in play!
Special code
Create a special code word between you and your child that equates to "I love you." You can get creative with your child in choosing a secret saying or hand movement without getting too gushy in front of other people…aka not getting embarrassed in front of their friends. This will come in handy as they get older!

Respect a child's uniqueness
If there are multiple children in the home, refrain from comparing one child to another. Honor the fact that each child is different and most likely cannot parented in the exact same way. This will promote true validation for the child and your ability to love them for who they are.
Have a heart felt and affection month from Crossroads Family Counseling Center, LLC.
Written by: Jackie Fonseca, MSW, LCSW and has qualified as a registered play therapist. She is also licensed in MD and DC. Jackie, a bi-lingual therapist speaking English and  Spanish has experience in providing direct mental health therapy in school based settings. She specializes in working with school aged children and their families. Her treatment approaches include child centered play therapy, sandplay therapy, theraplay, trauma focused cognitive behavioral therapy, sensory integration and somatic regulation.