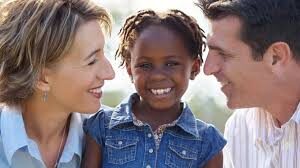 Did you know 135,000 children are adopted in the United States each year? According to the Adoption Network,  there are 1.5 Million Adopted children in the United States and nearly 100 Million children have been adopted by family members. The average child waits for an adoptive family for over 3 years and the average agedchild waiting for adoption is 8 years old. Also, 6 out of 10 Americans have experience with adoption.  If you have adopted a child you know the challenges, joys and struggles in adopting a child. If you have not adopted a child you may know a family that has adopted or know an adult who has been adopted.
November is National Adoption Month.  This also includes National Adoption Day which is observed annually on the Saturday before Thanksgiving. This event is focused on raising awareness of children in foster care waiting to be adopted, traditionally which is observed in courthouses across the nation, where thousands of adoptions are finalized simultaneously  to raise the awareness of children in foster care waiting to be adopted,
Truths and Myths about adoption from ADOPTIVE FAMILIES:
Birth parents can come back and take the child. Once an adoption has been finalized in court, the child is as much the parents as if they had given birth.
All birth mothers are unstable teenagers. Most birth mothers are women in their twenties making a well-thought-out choice to give their child a life that they cannot themselves can provide.
All adoptees are troubled.Recent long-term studies of adoptees in America show that they are no different in emotional health, psychological well-being, self-esteem, and attachment to family as children raised by their biological parents.
Many families find  a love and joy with their adopted child that they never thought would happen. However, for some families building the relationship with adopted child can  be a challenge. The child may have a different temperament and personality or they may have ADD/ADHD or other mental health issues.  Building the relationship and attachment may take more effort.
Theraplay is a type of playful therapy focusing on building and enhancing attachment, increasing self-esteem in the child, building trust in others, and creating a joyful engagement with the parent and child. The Theraplay Organization, states this type of therapy  is based on the natural patterns of playful, healthy interactions between parents and children and is personal, physical, and fun. Theraplay is an Evidence Based practice treatment developed over 50 years ago. Theraplay is used all over the world.  There is formal research documenting Theraplay's effectiveness and Theraplay is listed on the National Registry for Evidence-Based Programs and Practices. Studies have shown that Theraplay works with shy and withdrawn children, improves relating in children on the autism spectrum, improves parent-child interaction and the emotional availability of parents to their children, and can even increase self-esteem in adults.
In addition to having research behind it, Theraplay involves qualities and types of interactions that are well-known and well-researched to be crucial in building self-esteem, a healthy body image, emotional regulation (being able to manage the ups and downs of emotions without going too "up" or too "down"), emotional connection with others, and trust in parents or caregivers. When these capacities are nurtured and developed, behavioral problems often significantly diminish and can also disappear.
Theraplay is based on doing simple interactions between the parent and child to assist with building the engagement and joy in the relationship
Five simple Theraplay activities that can be incorporated into daily life are:
By Heather Gilmore, MSW, LLMSW, BCBA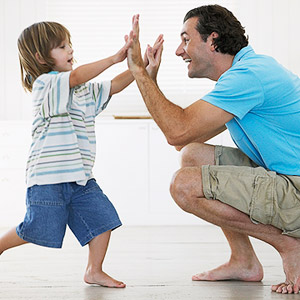 Playful Copycat (or Mirroring the Child)
This activity does not necessarily require any physical items or toys. All it takes is having the parent and child both present and ready to interact with each other. The basic idea for this activity is to have the parent playfully copy what the child is doing, such as by having the child begin by clapping his hands together and having the parent clap their hands in the same volume and speed as the child. When the child changes his style of clapping (such as louder or softer), the parent should imitate the child. Eye contact, smiles, and laughs are also helpful to promote a healthy relationship and repair or enhance attachment. Mirroring can also be done with other activities, such as jumping, playing with toys, or facial expressions.
Bean Bag Game
Have the child place a bean bag or another soft toy that is fairly easy to balance on top of his head. Have the parent sit in front of the child and place her hands in front of her. The child is then directed to tip his head forward to try to get the bean bag in the parent's hands. The child should tip his head when the parent blinks her eyes. (This will promote eye contact.) Have the parent use as much eye contact as possible. Again, it is important for the parent and child to have fun with this activity. Laughter has been found to be healing and can help to repair and enhance a relationship. (activity adapted from Walton)
Piggy-Back Rides
Piggy-back rides can help to strengthen parent-child relationships and repair or enhance attachment because they involve fun and physical closeness. When children are babies, they need plenty of physical contact with their parents. Babies thrive not only from being fed and kept physically safe, but also from feeling the comfort and security of having their parent close to them.
Lotion Massage
Using lotion to massage a child's hands or feet can enhance attachment and strengthen a parent-child relationship. The massage can relax a person's physical body by reducing tension and bringing the brain into a less defensive state.
Brushing Hair
Sometimes girls can be fussy about getting their hair brushed, especially if they have experienced pain from well-meaning parents brushing their hair too hard. However, allowing a daughter to gently brush her mother's hair and having a mother gently brush her daughter's hair can be an activity that can promote connection. This can be a calming activity that includes a sense of nurturing which connects to a person's internal experience of attachment and bonding.
If you are struggling with building the relationship you would like with your adopted child contact us at 703-380-9045 or info@crossroadsfamilycc.com.  We can help you find the love and joy you are struggling with in your relationship.
Sheri Mitschelen, LCSW, RPT/S is the owner and clinical director of Crossroads Family Counseling Center, LLC, in Fairfax, Va. She has more than 25 years' experience working with children, adolescents and families.  She is a Registered Play Therapy-Supervisor and is a Level II Certified Theraplay Therapist. In addition, she is an adjunct faculty member  at Virginia Tech's Marriage and Family Therapy Master's program and George Mason University School of Social Work.