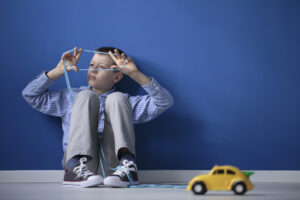 Autism is a developmental disability that affects how a person communicates with, and relates to, other people. It also affects how they make sense of the world around them. Autism is a spectrum disorder due to the range of characteristics and qualities that may or may not cause difficulties in someone's life with autism. All people with autism share certain characteristics, but the level in which it will affect them will range. Often times people will refer to someone as having high, or low, functioning autism, meaning that the autism affects them less if they are high functioning, and more if they are low functioning. Autism can affect how a person communicates, and can often lead people with autism to be considered non-verbal in the way that most people communicate. People with autism may still communicate with the world, but may do it non-verbally, and much differently than most other people.
People with autism sometimes struggle with:
Communication,
eye contact,
Sensory stimulation,
Regulating emotions,
Social cues, 
Being flexible to change.
However, there are many positive traits that come along with the autism spectrum disorder. Some positive characteristics include: high attention to detail, deep focus, observational skills, absorb and retain facts, impeccable memory, visual skills, expertise in a specific subject, analytical/methodical approach to problems, innovative solutions, creativity, tenacity, resilience, determination, accepting of differences and less likely to be judgemental, honest, loyal, and committed. The idea that every person with autism is affected differently, and carries different traits of the disorder, goes to show the power of neurodiversity.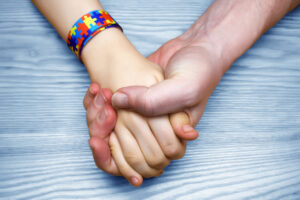 The world is moving towards being much more accepting of people with an ASD. There are many organizations and nonprofits working to bring awareness and treatment to people with ASD. Some of these organizations include: Autism Speaks, Autism Society, Autism Research Institute, Organization for Autism Research, etd. There are also many popular tv shows that have highlighted people with autism, such as: The Good Doctor, Sesame Street, Parenthood, Grey's Anatomy, etc.. Additionally, there are also children's books that are geared specifically towards acceptance and understanding of ASD such as: All My Stripes: A Story for Children With Autism, Since We're Friends: An Autism Picture Book, We're Amazing 1,2,3! A Story About Friendship and Autism (Sesame Street), etc.
Every year people around the world celebrate World Autism Awareness Day on April 2nd, and Autism Awareness Month the whole month of April. In this process of raising awareness, there are resources for parents who think their child may have an autism spectrum disorder.   For more information go to: www.autism awareness month 2019.
Crossroads Family Counseling Center also works with families with children who have autism on emotional regulationa and social skills.
Written by: Kasey Reichard,  Marriage and Family Therapy Intern specializes in working with children, adolescents, parents, adults and families and play therapy.  Kasey is working towards completing her Masters of Science in Marriage and Family Therapy at Virginia Tech University. She is also a graduate from Florida Atlantic University with a B.A. in Psychology and a minor in Sociology. She is currently under the Supervision of Sheri Mitschelen, LCSW, RPT-S