Anxiety is a difficult emotion to deal with and manage especially for young children.
According to the World Health Organization, Anxiety disorders are the most common mental health challenge in the United States impacting 54 percent of females and 46 percent of males. The onset for anxiety is around age 7 years old and people with anxiety are 3-5 times more likely to go to the Doctor for physical symptoms that are anxiety related. Unfortunately, only 1/3 of those suffering with anxiety get treatment.
Some common childhood disorders are:
Generalized anxiety disorder, Social Anxiety, Selective Mutism, Separation Anxiety disorder, Panic disorder, Obsessive-Compulsive Disorder and Specific Phobias.
Children are more likely to develop other mental health issues in adulthood, such as depression and substance abuse if anxiety in childhood is not treated.  Anxiety is a chronic condition that   doesn't go away and you don't out grow it.
Parents often don't realize that anxiety is an issue because it often comes out in behavior for children versus a child sharing that they are anxious.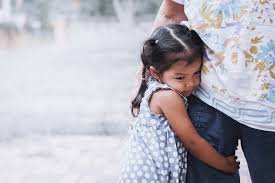 Aureen Pinto Wagner, PhD states that anxiety becomes problematic when it begins to affect a child's ability to engage in three main responsibilities of childhood:
To learn-they have trouble concentrating on their work or fall behind with their assignments.
To make friends– they avoid play dates, of fun peer outings such as a Birthday party.
To have fun-they have trouble joining in fun activities or organized sports.
There are things parents can do to help children with anxiety according to Clark Goldstein, PhD:
1. The goal isn't to eliminate anxiety, but to help a child manage it.
None of us wants to see a child unhappy, but the best way to help kids overcome anxiety isn't to try to remove stressorsthat trigger it. It's to help them learn to tolerate their anxiety and function as well as they can, even when they're anxious. And as a byproduct of that, the anxiety will decrease or fall away over time.
2. Don't avoid things just because they make a child anxious.
Helping children avoid the things they are afraid of will make them feel better in short term, but it reinforces the anxiety over the long run. If a child in an uncomfortable situation gets upset, starts to cry—not to be manipulative, but just because that's how she feels—and her parents whisk her out of there, or remove the thing she's afraid of, she's learned that coping mechanism, and that cycle has the potential to repeat itself.
3. Respect their feelings, but don't empower them.
It's important to understand that validation doesn't always mean agreement. So if a child is terrified about going to the doctor because they are  due for a shot, you don't want to belittle their fears, but you also don't want to amplify them. You want to listen and be empathetic, help them understand what they're anxious about, and encourage them to feel that they can face their fears. The message you want to send is, "I know you're scared, and that's okay, and I'm here, and I'm going to help you get through this.
If your child continues to struggle with anxiety early intervention can help your child and you get coping skills and learn ways to manage the anxiety.
At Crossroads Family Counseling Center, we specialize in helping children, adolescents and families manage and reduce anxiety.  We work with children as young as 2 years old.  For a free telephone consultation please call 703-380-9045.
Sheri Mitschelen, LCSW, RPT/S is the owner and clinical director of Crossroads Family Counseling Center, LLC, in Fairfax, Va. She has more than 25 years' experience working with anxious children, adolescents and families.  In addition, she is an adjunct faculty member  at Virginia Tech's Marriage and Family Therapy Master's program and George Mason University School of Social Work.  She provides trainings for parents on how to help their children with anxiety. She can be contacted at Sheri@crossroadsfamilycc.com.